How to optimize your Instagram profile for search
Some tips to help publicize your Instagram profile and therefore your digital communication.
Are you trying to make your Instagram profile a little more known? Consider making it more search friendly.
In other words, you need to modify your profile so that it is more likely to appear as a suggestion in the search bar.
There are a number of things you can do to make yourself more discoverable on Instagram. Whether you have a brand profile to promote or just want to gain a few extra followers, here are some tips for optimizing your profile for search.
Do you want to implement a content marketing strategy?
Put keywords in your display name and nickname
One of the first things to do, as marketing platform Hubspot suggests , is to think about the keywords you want to market in your profile. Ask yourself, "What are people going to type in the search bar to find the things I'm marketing?" For example, if your profile is for a tattoo shop (or you're an individual tattoo artist), you'll want to have "tattoo" somewhere in your display name and your "handle" (your username starting with @) .
When I type "tattoo shop" into Instagram's search bar, all of the top account results have "tattoo" in their display name, and most of them have "tattoo" (or some variation of that -ci) somewhere in their handle. @livebytheswordtattoo shows up as a high ranking result partly because his account is optimized, but also, to be clear, because someone like me follows him as well, which may play a role in which accounts show up in searches carried out by networks of people.
Having keywords in the most important places on your Insta page is a helpful first step to optimizing it for search.
Put hashtags on your posts
If you want someone to stumble upon your profile, you need to hashtag your posts. Hashtags are one of the main ways Instagram drives its search results and lets people follow and discover the things that matter to them.
Continuing with our tattoo example, if you're a shop or an artist trying to get the word out about their work, you'll want to hashtag your posts with #tattoo. Keep in mind that the larger the hashtag, the larger the audience that will search for it – and therefore, the more competition you will have for search results.
Broad hashtags are always good! They allow you to reach a large audience. The problem is that you risk being drowned out by other messages containing the same hashtag. This is why we recommend that you use several more or less specific hashtags.
Let's say you have a tattoo of a flower that you want to show off. Consider hashing your post with #tattoo (to reach a broad audience) and #flowertattoo (to reach a more specific audience).
When I search for "flower tattoo" on Instagram, the top 9 out of the top 12 results have #flowertattoo in their posts. The other three have flower emoji in their captions, which may give some idea of ​​emoji's role in increasing post engagement. We will come back to this in the next tip.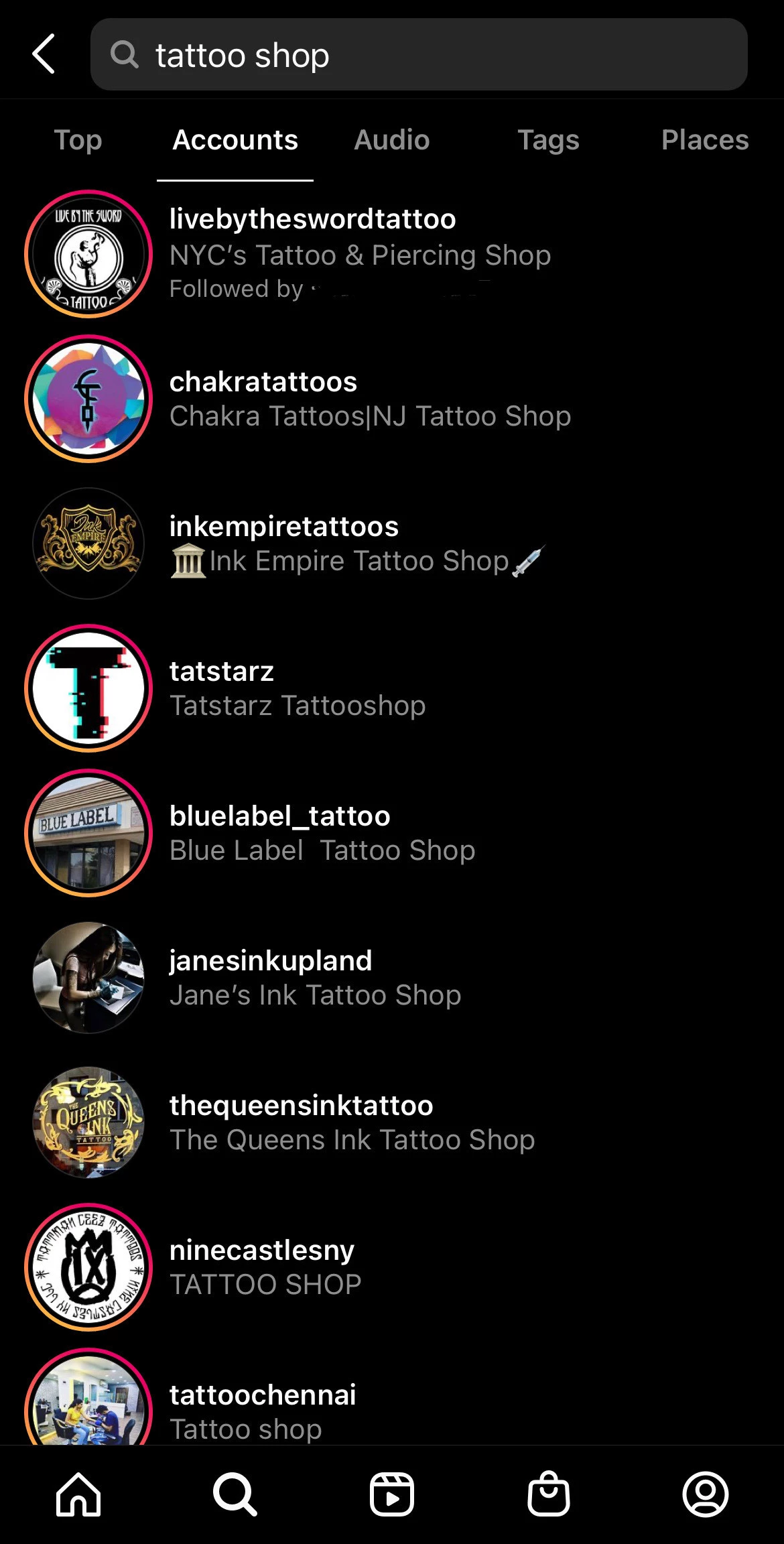 Captions or captions
Your post captions are another key area where you can optimize your profile. In a 2019 study by social analytics platform Quintly and reported by Social Media Today, researchers looked at how things like caption length, hashtag usage, and even emoji usage affect interactions. between Instagram users, young and old.
Length
The study found that for larger profiles, with more than a million followers, posts without a caption received the highest engagement. For smaller profiles (between 1,000 and 10,000 followers), captions between 1 and 50 characters in length got the most interactions. So, if you are a small profile, caption your posts, but keep it brief. For even smaller accounts, with 1,000 followers or less, interactions were about even between small captions (between 1 and 50 characters) and large captions (300 characters or more).
Use of emoji
Now let's talk about emoji. Quintly's study found that whether your profile has more than 10 million followers or less than 1,000 followers, captions without emoji tend to receive the fewest interactions.
For smaller accounts, with less than 1,000 followers, captions using 10 or more emoji resulted in the most interactions on average, although captions containing between one and 10 emoji weren't far behind.
For larger accounts (between 10,000 and 100,000 followers), captions containing between 4 and 10 emoji resulted in the most interactions on average, although emoji usage outside of this range did. also resulted in a high level of interactions, with the exception of captions containing zero emoji.
What to remember? Whether your profile is small or large, use emoji in your captions, damn it. What if you're a small account with less than 1,000 followers, do you indulge and use 10 or more emoji?
Also remember to include some external links to certify your words, especially when you mention studies or figures from reliable sources.
Use hashtags
When it comes to the use of hashtags, the study found that the most prominent profiles tended to get the best engagement when their posts had no hashtags. Why ? We don't know for sure. But we think if your name is Ariana Grande, you probably don't need to use hashtags to get high engagement in your posts. If you're Ariana Grande and have a specific goal of getting the most Insta engagement possible, it's probably best not to use hashtags.
We can also probably safely assume that most of you reading this are, in fact, not Ariana Grande. In this case, if you have less than 1,000 followers, use hashtags and lots of hashtags. The study found that these smaller accounts experienced their highest level of engagement when they used 10 or more hashtags in their posts.
The data gets a little particular for medium-sized accounts. Accounts with between 10,000 and 100,000 followers also saw their highest level of engagement when they used more than 10 hashtags. In contrast, small (but not the smallest) accounts with between 1,000 and 10,000 followers experienced their highest engagement rate when they used a modest 1-3 hashtags. Accounts with 100,000 or more followers experienced their highest engagement rate using zero hashtags.
The best advice we can give is to consider your account size and determine your hashtag usage based on that.
Use your biography
Don't leave it empty! Hubspot also suggests using "secondary keywords" in your bio. Think about what else people will search for in relation to what you are trying to market.
What else would people search for in relation to tattoos? "Piercings", maybe? "Shops" where to make appointments? Maybe including your city/region will help you capture the audience closest to you! Let's go back to @livebytheswordtattoo's example.
Looking at their bio, we can see that they include "tattoo", "piercing" and "boutique", using primary and secondary keywords to help drive their search optimization.
They also include NYC in their display name, and they put both Williamsburg and Brooklyn in their bio. Of course, this helps to show users where they do business, but also defines a broad area as well as a specific neighborhood where they are most likely to attract the audience they are looking for.
Publish content! Then check your "likes" and "views".
The best way to learn is to practice, right? So if you're not sure what works and what doesn't, why not try and error?
Publish your content using different techniques. Play around with the length of your captions. Try adding another keyword to your profile. Use more emoji. Use less emoji. Use more hashtags. Use fewer hashtags. And see what happens!
Which photos get the most likes and comments? Which videos are the most viewed? What do the posts that get the most likes have in common?
We can learn a lot about what works by giving it a try in college and seeing what happens next. It's a bit like conducting your own personal "study" to help you know what elements optimize your Instagram.
And if you have a 'creator' or 'business' Instagram account, you can go to 'insights' to get more in-depth information about your posts' interactions and metrics.
You have a good set of tools to help you optimize your account and track the results. So go ahead, create those profiles and get those interactions!